Welcome to Zenjob Rewards
Collect points now for great rewards.
Discover Zenjob Rewards and get extra rewards on top of your salary. Do jobs and other activities to earn points. Once you've earned enough points, you can choose great rewards. The more you participate, the more rewards you get.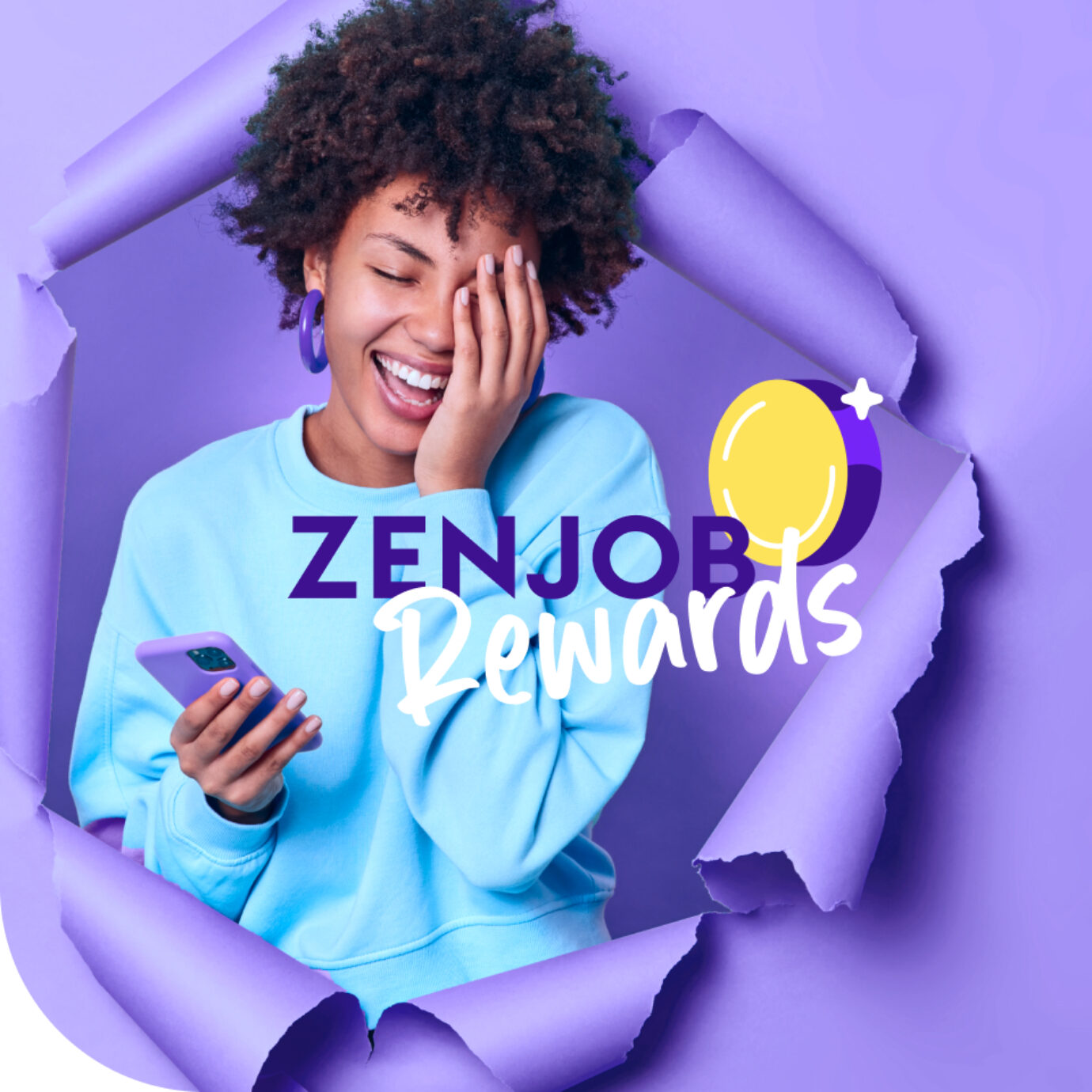 How do Zenjob Rewards work?
You now have a Zenjob Rewards profile in your app. From here you have different ways to earn points, level up and get rewards along the way. Track your progress and see what tasks are available and which ones you have already achieved.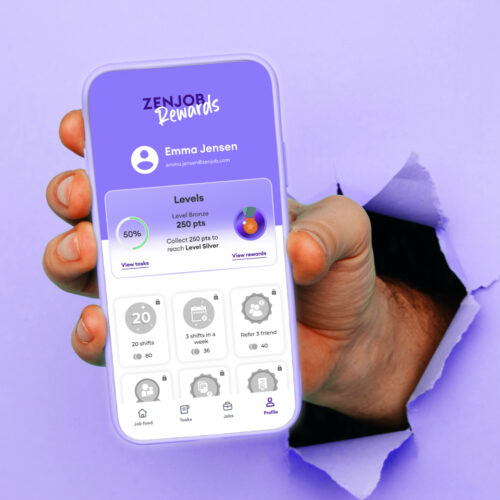 How do I collect points?
In your profile you will see different tasks that you can achieve. Each of these tasks shows you how many points you can collect.
Once you have achieved a task, you receive the points for it and the task is saved as an achievement. This way you can keep track of what you have already achieved. You can recognise them by the badges in your profile.
Here you can see a selection of tasks with which you can collect points:
Upload the
health certificate
20 points

Refer one
friend
20 points


Work 3 shifts
in a week
36 points


Do the cashier
training
20 points

How do I get my rewards?
Once you have reached a certain score or level, you can redeem your points for rewards. These include vouchers for Tier, DM, Gorillas, Coffee Circle and various bonuses
Start collecting points in your app today!
Terms and conditions
Zenjob's voluntary and free loyalty programme offers participants various rewards or bonus payments for completing certain tasks.
The rewards and bonuses are linked to the respective user account and are non-transferable.
Zenjob may change or eliminate the tasks, levels, rewards and bonuses of the Loyalty Programme at any time.
1. participation requirements
1.1 You must have an active account in our app.
1.2 You are at least 18 years old, live in Germany and are a natural person (not a company).
1.3 You were randomly selected by us for the Loyalty Programme.
2 Tasks, levels and point system
2.1 You receive points for completing certain tasks. You can find a detailed overview of the tasks on the website.
2.2 A shift will not be counted as a completed shift for the points system if you have finished it early yourself or if you have been sent home early by the customer due to behavioural or personal reasons.
2.3 Your points summary, tasks and level will be displayed to you in the App.
2.4 Zenjob is entitled to change or cancel the points, tasks or levels of the Loyalty Programme at any time.
3. rewards and bonus
3.1 If you achieve a certain score and thus a certain level, you will receive a reward in the form of vouchers and/or a bonus.
3.2 The vouchers are redeemable once.
3.3 The bonus will be paid to you by the 15th of the following month.
3.4 Zenjob is entitled at any time to adjust the type of rewards and the amount of the bonus or to cancel individual rewards or the bonus altogether.
3.5 If Zenjob makes a mistake in the calculation of the rewards or the bonus, Zenjob may change or correct the amount at any time.
4 Expiry of the rewards and the bonus
4.1 If you do not redeem the rewards you have received within 12 months, they will expire.
4.2 If your Zenjob profile is deactivated or you delete your profile, your rewards and bonus will expire.
5. Exclusion of transferability
Membership in the Loyalty Programme is personal, which is why the rewards and bonus cannot be sold, debited or transferred in any way to third parties or to a new profile.
Upon the death of the profile holder, his/her account will be closed and his/her rewards (if any) will be cancelled.
6. Duration and termination
6.1 Participation in the bonus programme runs for an indefinite period (participation period).
6.2 You can terminate your participation in the Loyalty Programme at any time by clicking on the unsubscribe link in the e-mail.
6.3 Deactivation or deletion of your Zenjob profile and termination in accordance with No. 6.2 will terminate your participation in the Loyalty Programme and all points, rewards and bonuses will expire.
7. Data privacy
Zenjob processes all data in accordance with our internal privacy policy and applicable data protection laws. For more information, please see our privacy policy: https://www.zenjob.com/de/datenschutz-talents/
8. Prohibition of abuse
You are prohibited from using our Loyalty Programme in a misleading, unfair, harmful or fraudulent manner. If Zenjob finds out that you are using our programme in an abusive manner, we will immediately block your profile as well as the rewards and the bonus.
9. final provisions
9.1 Zenjob reserves the right to change these General Terms and Conditions at any time, provided that the changes do not unreasonably disadvantage you. The changes are deemed to be approved if you do not object to the changes within four weeks after our notification by email to [email protected]. In the event of a change to the General Terms and Conditions, we will specifically inform you of your opportunity to object and the significance of the deadline. If you exercise your right to object, we have the right to delete your user account with effect from the date on which the amended GTC are to take effect.
9.2 Should any provision of these Terms and Conditions be or become invalid or unenforceable, this shall not affect the validity of the remaining clauses and the Terms and Conditions as such. In this case, the parties agree that the invalid or unenforceable clause shall be deemed to be replaced by a valid and enforceable clause, whose economic and legal effects come as close as possible to what the parties intended to achieve.
9.3 These GTC are governed by German law to the exclusion of the UN Convention on Contracts for the International Sale of Goods. The place of jurisdiction is the registered office of Zenjob AG.