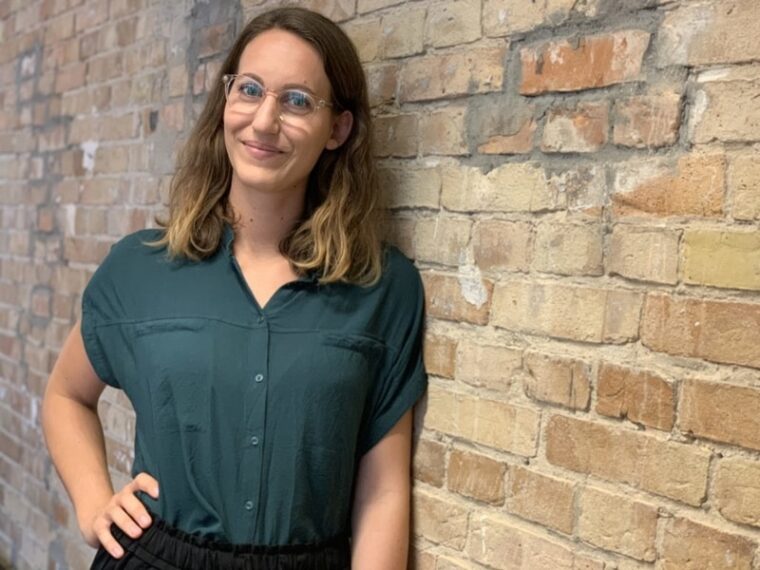 The Future of Work is not just "happening" to us. We have an active part in it. We build it. So, we need to envision it.  Set up a collective construct that we fill with life together. To build this construct, we interview our colleagues on a regular basis.
We gain insight into their everyday working lives, their expectations, needs, and opinions. And share them to shape the future of work together.
Sandra started at Zenjob as a talent recruiter and managed to become the first working student to write her master thesis in collaboration with Zenjob. After that she was offered a role as the first Public Affairs and Communication Manager. She is grateful for the diverse opportunities that opened up so far. But what is important for her in general in the working world?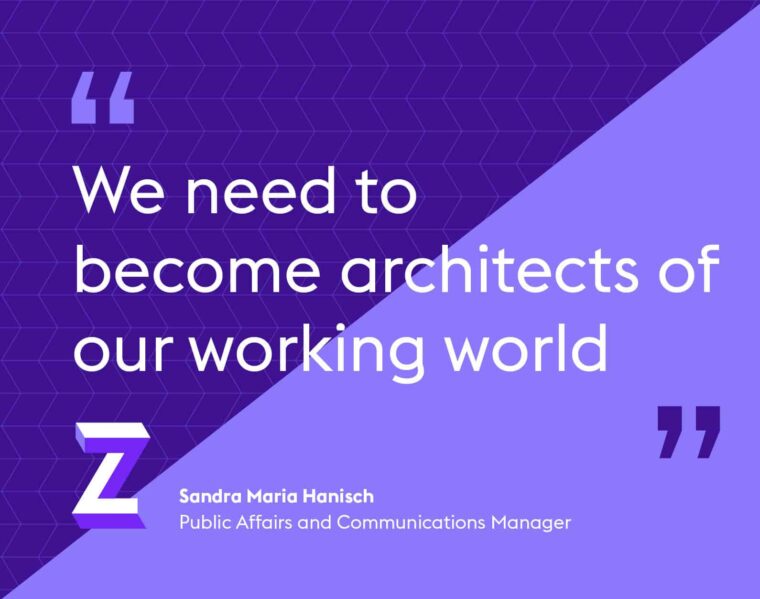 What do you love about your role?
It's pretty diverse: It combines political communication and marketing campaigns. I talk with loads of external parties and people, which makes every day interesting. I get to know a lot of different companies, industries, perspectives and opinions. We are closely connected to most of the biggest platform companies in Europe. And we collaborate to make platform work more sustainable and fair.
We are also participating in different scientific projects to reach that goal, which perfectly combines my skills from university with my current jobs. Further I get direct insights into political decision making. And I am always up to date with current events … which makes voting way easier for me, for example 😉
What has to change about how we organize and perceive work nowadays?
In my opinion, work still has far too high a value in our society. When we ask someone "What do you do?" they usually respond with their job title. Yes, work is of course an important means of socialization and also crucial to earn our daily bread. However, in our society, work often decides how we live our lives. But actually our lives should decide how we work.
So I think the working world needs to become much more flexible. Rigid forms of employment in the sense of 9-5 are a thing of the past. Our current life circumstances or life phases should be well compatible with our jobs. At the moment, I don't yet see the possibility very often, and especially not the social acceptance, of organizing work accordingly.
How important is technology for the future of work and how will it change the way we work?
Following up on the previous question, I think technology can help us do that. Although it can not help change our perception of work or the value we ascribe to it, technology will help us organize our working life more flexibly. I'm totally aware that it is harder to organize companies, when people want more flexibility concerning their employment status. But with clever algorithms it will be easier to match people's expectations with the needs of a company. 
Further technology will replace some jobs and create new areas of work. It will help us safe time and focus on the more creative parts of jobs, as it digitalizes processes and makes them more effective. In some occupational fields, this will play a more important role than in others. Craft occupations, for example, can also benefit from technologization (e.g., through digital programs for work organization or computing purposes), but are not affected as much as "office" jobs.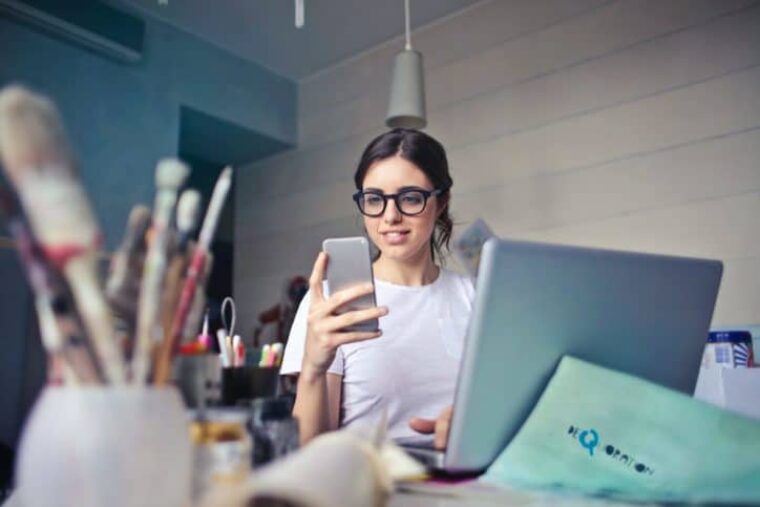 And how will technology change Public Affairs?
In my job I am constantly meeting new people. Through the Corona pandemic, we have already proven that this all works digitally as well. But building interpersonal relationships actually works better in a face-to-face meeting … and is also more fun 😉 I think as soon as it is possible, a lot of my colleagues will go back to personal exchanges, every time this is manageable. So it's very unlikely that a robot will take over my job. 
Further I'm working in a tech Start-Up, meaning that we are a highly digitalized team. Technology is part of my everyday working life. Nevertheless I guess there are more programs and technological inventions coming up. We already are using great software and hardware to make my daily tasks as efficient and easy as possible, but I'm sure there's more to come. Hence the term "technological progress", it never ends!
How can we make work more sustainable?
Sustainability is one of the biggest topics when we are talking about the Future of Work. The new values that the current and also the coming generation bring to the job market are already creating a trend toward greater sustainability. But for the sustainability of the world of work – which plays an important role in our journey toward a sustainable society – we must manage not to waste resources. Resources in this sense implements not only natural , but also immaterial and intellectual resources like talent or time.
Interesting, right? You might also want to read about Tamara's point of view on the Future of Work. 
Back To Overview